or, How a Techie Marketer person found herself in the midst of a LOT of Singaporean poetry, discussions on Mahasweta Devi, and even Queer-baiting in Harry Potter.
Like most engineering students in India, I have always wanted to explore yet another discipline. In my case, that was the Humanities. With Digital Humanities, I found a way to bring together the best of both worlds.

Now I found a way to explore this practically via volunteering for Digital Humanities Now, as the Editor-at-Large. Now what do I find while nominating content relevant to Digital Humanities from all over the web, but! A Conference and a Winter School in Digital Humanities happening in India! The 3rd Winter School in Digital Humanities was held from 12th and 13th December, 2018. The 7th International Conference on Language, Literature, and Culture was scheduled from 14th to 16th December, 2018.

I found out about the conference only 2 weeks before the deadline, but I immediately typed up an abstract and sent it in, without thinking about the logistics. I didn't have a paper ready but I knew what I wanted to put across. Just as promptly, I forgot all about it in the midst of my full-time work and the onslaught of the college application season.

Imagine my intense elation, dread, and even confusion when the representatives of Institute of Advanced Studies in English accepted my abstract submission! They even invited me to present a paper in the Pune Conference.

Here's where happenstance came into play. Fate had me moving to India for a month. Having completed my college applications round one, and taking a few days off work, I made the split second decision to attend the events. They sounded too good to be true, and provided an almost once-in-a-lifetime opportunity.

I was getting an opportunity to witness the Humanities academia in action, up-close.
I could meet and network with the stalwarts in Digital Humanities in the Indian setting.
This opportunity would look GREAT on my college applications.
However, there were a couple of impediments. The last minute traveling and accomodations planning aside, I realized I still didn't have a paper ready, even half-baked. I used content from this blog and my research for some other (future) blog posts, and created an outline on my bus ride over to Pune.

My paper was titled "The Potential of Digital Humanities in India". I intended to explore this topic from a technological perspective.

This was my rough outline for the paper presentation:

What is Digital Humanities?
What are the Origins of Humanities Computing?
What does literary or textual analysis of a poet's work have to do with semantic and syntactic analysis in computation?
What are the broad classifications with which Digital Humanists work under?
How does Digital Humanities processes occur?
What is the Role of Technology in Digital Humanities?
What is one Digital Humanities project that exemplifies the processes?
What are the Digital Humanities tools that are already available for use?
What is the state of the Digital Humanities in India presently?
What more can be done?
As you can see, my outline was structured to cover only the basics. Since the field was still very new, I had to keep in mind that however "technical" my topic might be, my audience was mainly literary, linguistic, cultural studies research scholars. I had to remind myself to tone down the tech aspects of what I had in mind, since I did not want to alienate my audience with technical jargons or heavy material.

Pune, it turns out, for all its beautiful weather and greenery, doesn't have good internet connection, so I had to contend with that as well. In the end, I put together a simple presentation with Focusky within a few hours.

At T-1 day:
I still didn't have a full paper.
I did not have the time to practice my presentation even once.
I did not know a thing about conferences, and hadn't researched, or prepped any information on the attendees
Click here to view full presentation: www.focusky.com/hqln/siwz
Transcript
Good morning, I am Jajwalya, computer science and engineering graduate (an anomaly here), digital marketer, and a Digital Humanities enthusiast. Today I am presenting my paper titled, "The Potential of Digital Humanities in India", specifically from a technical perspective.
There's a lot of debate regarding what exactly the term "Digital Humanities" means, and how it is to be defined. I am guessing this pursuit of a rigid definition is an academia thing, because Digital Humanities is very difficult to define, precisely for its interdisciplinary and multidisciplinary nature. Put simply, it is the intersection between the technology we see in our daily lives, applied to the humanities spectrum. This entails the use of digital tools in humanities research. This website by Jason Heppler, whatisdigitalhumanities.com that you see here is interesting since each time you refresh it, you get the unique perspective of a research scholar who has defined the subject a little differently.
Humanities Computing is the term used for the discipline until it went through a kind of transformation at the turn of the century. The origin of Humanities Computing can be traced as far back to Robert Busa's 1974 seminal work Index Thomisticus.
An Italian Jesuit priest, Robert Busa was trying to collate and create a concordance of all Thomas Aquinas' and related poets' work. This was obviously taking a long, long, long, long time. He approached Thomas Watson of IBM, to speed up the process. He even quoted IBM's slogan, "The difficult we do right away; the impossible takes a while longer." to cajole Watson into trying this seemingly impossible task. Indeed, it did take them more than 50 years, and even more importantly, along the way, brought about the understanding of semantic and syntactic analysis apart from textual analysis, concordance, and lemmatization. We, as computer science students, owe a lot to the humanities and specifically Busa, sine these concepts form the basis of System Software subjects. In the accompanying image you will notice Robert Busa actually explaining his project to a rapt audience of technology professionals and software engineers from IBM. They are trying to understand his requirements so that they can help him.

Here's a graph that depicts the Digital Humanities archival cycle. Essentially, Digital Humanities can be broadly classified under two sections.
Data Collection and Archival
Analysis of Existing Collection
Data Collection and Archival requires a lot of systematic research and this is also where your expertise will be mainly required. The analysis of this data will be applicable for further usage and promulgation of this information in the form of knowledge. It will be helpful in presenting a proof for defending the statements, theories, or ideas, with epistemological certainty. You will notice that in the chart, the left side is more concerned with the Data Collection and Archival while the right side is more to do with Analysis of Existing Collection. Research, as you know, is continuously evolving, and that is why this process is in the form of a cycle.
Now I want to talk about the role of technology in Digital Humanities studies with the example of the 2011 project Google Arts and Culture. Amit Sood, the director for this initiative heads this project. We are all familiar with the narrative of engineering students exploring various interests despite their field of study being fixed. I find Amit Sood's example especially interesting because he claimed to want to bring the "High Arts" to the common folks. Thus was born the Google Culture Institute, where he spoke to 2,000+ museums and managed to archive all their works in ultra high definition, in the order of gigabytes.
Next, by using Machine Learning and Data Mining, that is, specifically, k-mean clustering concept, the collections were automated in certain bunches. All images with horses were in one cluster, all images with white women in the painting or sculpture in another, and so on. One such cluster of portraits interested Sood because it had the potential for "virality". Thus was born the Selfie Art Portrait. He used facial recognition technology to map out portraits with people's selfies, and suddenly, you could see if you looked like Mona Lisa or Van Gogh!

The flowchart depicts the facial recognition testing process, in which you will notice, a huge amount of data must, again, be provided by humanities scholars. The next flowchart is a technical, that is, algorithmic representation of the same. My argument in showing you this, is the truly multidisciplinary nature of Digital Humanities. It is not just technology with arts, humanities, museums, or libraries, but here, we even need biologists, or zoologist's expertise.
LEARN MORE: The Role of Digital Humanities in Western Art and Museums
On to the Digital Humanities tools themselves, there are many, but right now I am focusing on the tools for analysis. It is true that there are many programming languages, and it is these programming languages that are used to develop the tools, but you don't need to know to work with the programming languages themselves to use these tools. You only need computer literacy which is in any case a growing need in these times. The tools for analysis can range from mapping geographically, across time, or even representation via data visualization, as well.
Coming to the Indian context of the Digital Humanities studies, it is at a nascent stage as of now. However, there are many fantastic research centers and initiatives which have taken up the challenge of broadening the scope for Digital Humanities in our homeland. We have one right here in Pune. In fact only few days ago, Dhanashree Thorat even facilitated a Digital Humanities Winter School and Workshop that proved to be very fruitful for all of us.
In conclusion, I believe that it is extremely important to change with the sign of the times, and become inclusive of methodologies which make humanities research faster, and more efficient. For this, we need to work together to bring about a tremendous change in the way we handle academia and research, especially via technology. Please let me know if there is any way I can help.

Thank you for your time.

---
Dr. Ashok Thorat, the Director for the Center for Digital Humanities in Pune raised a very important point in the post-presentation Question and Answer session.

If we are to invite technology to the doorstep of humanities, wouldn't it be just as prudent to make humanities discipline itself an important component in various other disciplines, like medicine, pharmacies, and indeed, even computer sciences?

To this question (that I have paraphrased), I answered, remembering Jeff Goldman's quote from Jurassic Park, that it is the Humanities that helps us understand why it is that we are doing what we are doing. If more computer science students knew about morality and ethics, we wouldn't be in the quandary that we are in, with Facebook. Therefore, it is extremely important to consider and imbibe the qualities that only the Humanities equip us with, no matter the discipline or the work we are concerned with.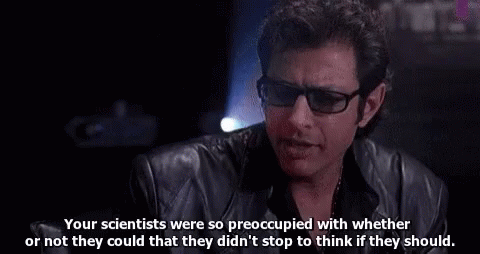 ---
Here I have emphasized my own paper presentation experience. In the next blog post I will continue to describe this unique few days of my life.
I am extremely grateful to each and every professor or student who took the time to discuss Digital Humanities or related topics, with me.
Do you have any comments about the presentation? Do let me know!